Orbital elements of 1998 QS52
This planet seems to be a member of Taurid complex. Two days before yesteday (Sept. 2) I have noticed this. As you can see, Longtude of Perihelion ( L= 143.5 deg. [Peri. + Node]) is similar to that of 2P/Encke (161.1 deg.), also Semi-major axis (2.21 AU) and Eccentricity (0.86) are similar to Encke's ones (a= 2.21 AU, e= 0.85). So that both objects have the same orbital size and the almost same direction from the vernal equinox as shown on orbital figure.
We have an interest about the nature and orbit of this object. If it's possible, could you include this object as important one in your observation program during the next dark run? Note this object is rather bright one. Because the magnitude parameter of nucleus of 2P/Encke is H2= 14.5 (k=5), and the absolute magnitude of 1998 QS52 is H= 14.0.

     1998 QS52                  2P/Encke

     Epoch = 1994 Sept. 4       1998 Sept. 14.0 TT
         T = 1999 Feb. 20.34    1997 May  23.63713 TT
         L = 143.50             161.12
      Peri.= 241.99             186.39658
      Node = 261.51             334.72617    (2000.0)
       Inc.=  17.71             11.88115
         q =   0.3091            0.3345599 AU
         e =   0.8598            0.8489473
         a =   2.2052            2.2148557 AU
         P =   3.27              3.30 years

---
Orbits of 1998 QS52 and 2P/Encke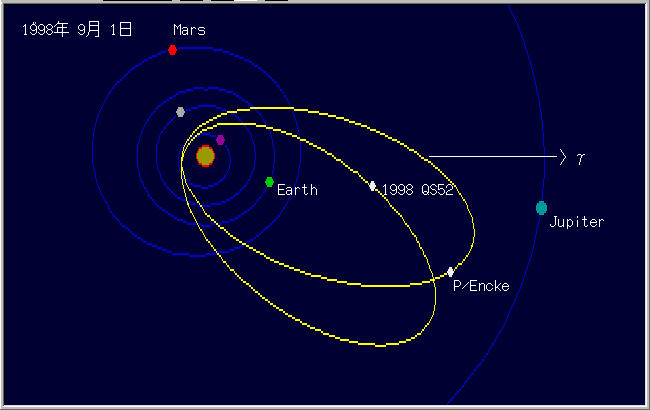 ---
Ephemeris this month

Date/  0h TT  R.A.(2000) Decl.     Delta   r     Daily motion  Mag.  Moon Age
                h  m       .  ,                      ,  / PA .  V       .
1998 Sept. 4  22 55.30  +24 13.4   1.605  2.520    24.0 / 261  17.8   52  .92
           5  22 53.57  +24 09.6   1.593  2.511    24.3 / 260  17.7   42  .97
           6  22 51.82  +24 05.4   1.582  2.503    24.7 / 259  17.7   34 1.00
           7  22 50.05  +24 00.7   1.572  2.494    25.1 / 258  17.7   31 1.00
           8  22 48.26  +23 55.6   1.561  2.485    25.4 / 258  17.7   34  .97
           9  22 46.45  +23 50.1   1.551  2.476    25.8 / 257  17.6   43  .91
          10  22 44.62  +23 44.1   1.541  2.468    26.1 / 256  17.6   54  .83
          11  22 42.78  +23 37.7   1.532  2.459    26.4 / 255  17.6   66  .73
          12  22 40.93  +23 30.8   1.523  2.450    26.7 / 254  17.6   78  .62
          13  22 39.06  +23 23.4   1.514  2.441    27.0 / 253  17.6   91  .51
          14  22 37.19  +23 15.6   1.505  2.432    27.2 / 252  17.5  103  .40
          15  22 35.30  +23 07.4   1.497  2.423    27.5 / 252  17.5  114  .30
          16  22 33.41  +22 58.7   1.489  2.414    27.7 / 251  17.5  125  .21
          17  22 31.52  +22 49.6   1.481  2.405    27.9 / 250  17.5  135  .13
          18  22 29.62  +22 40.0   1.474  2.396    28.1 / 249  17.5  143  .07
          19  22 27.73  +22 30.0   1.466  2.387    28.3 / 248  17.5  148  .03
          20  22 25.83  +22 19.6   1.460  2.378    28.4 / 248  17.4  149  .00
          21  22 23.94  +22 08.7   1.453  2.368    28.5 / 247  17.4  145  .00
          22  22 22.06  +21 57.5   1.447  2.359    28.6 / 246  17.4  138  .02
          23  22 20.18  +21 45.8   1.441  2.350    28.7 / 245  17.4  130  .05
          24  22 18.31  +21 33.7   1.435  2.340    28.7 / 244  17.4  120  .10
          25  22 16.46  +21 21.3   1.430  2.331    28.8 / 244  17.4  110  .16
          26  22 14.62  +21 08.5   1.425  2.322    28.8 / 243  17.4   99  .23
          27  22 12.79  +20 55.3   1.420  2.312    28.7 / 242  17.4   89  .32
          28  22 10.98  +20 41.8   1.416  2.303    28.7 / 241  17.4   78  .41
          29  22 09.19  +20 27.9   1.412  2.293    28.6 / 240  17.4   67  .51
          30  22 07.42  +20 13.8   1.408  2.283    28.5 / 240  17.4   56  .61
     Oct.  1  22 05.68  +19 59.3   1.404  2.274    28.4 / 239  17.4   46  .71

---
Residuals


1998 QS52 
Epoch 1998 Sept. 4.0 TT = JDT 2451060.5                 Nakano
M 309.03378              (2000.0)            P               Q
n   0.30097371     Peri.  241.98930     -0.76242612     -0.57286920
a   2.2052120      Node   261.50633     +0.64695944     -0.68366857
e   0.8598290      Incl.   17.71089     -0.01224302     -0.45212628
P   3.27           H   14.0           G   0.15           U   *
Residuals in seconds of arc 
980819 704 (2.2-  2.7-)   980828 704  0.3+  0.3+    980829 426  0.3+  0.0   
980819 704  0.5-  0.4+    980828 704  0.2-  0.0     980829 426  0.2+  0.3+  
980819 704  0.1+  0.4+    980828 704  1.0-  1.2-    980829 426  0.6+  0.0   
980819 704 (2.8-  0.3-)   980828 658  0.5-  0.1+    980829 108  1.1+  0.7+  
980819 704  0.6+  0.5+    980828 658  0.8-  0.3+    980829 108 (2.1+  2.5-) 
980825 704  0.2-  1.3-    980828 658  0.1+  0.2+    980830 658  0.4-  0.2-  
980825 704  0.2-  0.6-    980828 426  0.2+  0.1+    980830 658  0.4-  0.1-  
980825 704 (3.0+  1.6-)   980828 426  0.3+  1.3+    980830 658  0.2-  0.2-  
980825 704  0.9+  1.8-    980828 426  0.6+  0.6+    980830 587  0.5+  1.2+  
980826 587  0.8+  0.8-    980828 954  0.2-  0.1+    980830 587  1.0+  1.0+  
980826 587  0.0   0.6+    980828 954  0.3-  0.1+    980831 046  0.2-  0.2-  
980827 704  0.9-  1.6-    980828 954  0.2-  0.1+    980831 046  0.2+  0.1-  
980827 704  1.3-  1.3-    980828 954  0.4-  0.2+    980831 046  0.3-  0.0   
980827 704  0.2+  0.7-    980829 704  0.8+  0.6+    980831 046  0.2-  0.1+  
980827 704  0.9+  0.1+    980829 704  1.6+  1.5+    980901 360  0.0   0.2-  
980827 658  0.5-  0.0     980829 704  1.7+  0.6+    980901 360  0.7-  0.1+  
980827 658  0.7-  0.5+    980829 704  0.4-  0.9-    980901 360  0.2-  0.4-  
980827 658  0.1+  0.9+    980829 704  0.8-  0.0     980902 402  0.2+  0.1-  
980827 557  0.0   0.0     980829 658  0.6-  0.1-    980902 402  0.0   0.2-  
980827 557  0.0   0.1+    980829 658  0.7-  0.0     980902 402  0.1+  0.3-  
980827 557  1.0+  0.0     980829 658  0.3-  0.2-    980903 402  0.0   0.3-  
980827 596  0.9-  0.3-    980829 422  0.1-  0.3+    980903 402  0.1+  0.3-  
980827 596  0.6-  0.0     980829 422  0.1+  0.0     980903 402  0.1-  0.1-  
980827 596  0.9-  0.1+    980829 422  0.3+  0.4+    980903 402  0.1-  0.3-  
980828 704  0.9+  0.0     980829 422  0.2+  0.4+                            
980828 704  0.0   0.1+    980829 422  0.4-  0.2-                            


---